What is Evangelism? Simply put...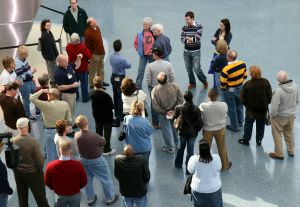 it's taking advantage of opportunities to share what you know about Jesus with others.
What is evangelism?... leads us to another pertinent question...
What is the purpose of Evangelism?
Sharing what we know about Jesus is for the purpose of leading people into a personal relationship with God. By working your way systematically through this website, you will gain an understanding of several techniques and methods for doing this effectively.
What is Evangelism? What isn't it?
Please do not be confused. Evangelism is not a method or a program.
Often, When the word is mentioned, people get mental pictures of putting up a tent, going door to door, waving a Bible on a street corner and so on. Some of these methods are valid ways to reach those who need to hear, but at the heart of the matter is the idea of building relationships between people and God.
It is God's greatest desire to spend the rest of eternity with you and me. That is an awesome truth that people need to know!!
I don't want to get into in-depth word studies at this point, but we do need to know where the word came from in order to understand it's importance to us today.
The word 'Evangelism' does not actually appear in the Scriptures. The word 'Evangelist' does.
So what is an evangelist?
By definition, an evangelist is "a preacher of the Gospel."
In the Bible, Jesus gives a command to His disciples that carries down to our generation.
"Go into all the world and preach the Gospel to every creature."
Mark 16:15
Preach the Gospel!
What Does That Mean?
The Gospel, the good news, at it's core is simply the fact that Jesus Christ died on a cross for the sins of all mankind and rose again on the third day.
Because of this single act of love and mercy on the part of God, we have the opportunity and privilege of coming into a personal relationship with Him.
If we will...
* accept the sacrifice that was made for us
* confess our sins to God
* turn away (repent) of those sins and
* go forward, obeying His Word, the Bible,
then...
* we are promised an eternal home in Heaven with Him.
Whew!! That's quite a lot to absorb in such a short time.
Don't worry, our next step is taking our time to learn more about what the Gospel message really is. Take Your Time to learn this. This is the basis for any other topic that you will ever encounter in evangelism or Christian life. Build on a good foundation and let the Holy Spirit expand your understanding.
Look at the "Apply What You Have Learned" Section below, then click on "What is the Gospel" to continue our study.
Apply What You've Learned So Far
What is Evangelism? Try to summarize what you have learned on this page in as few words as you can. Present it out loud. Can you summarize it in less than 2 minutes? Let me know how you are doing or if you have any questions. I'd love to hear from you.
Contact Me


"What Is The Gospel" Bible Study - Step 2 for New Soul Winners


For More Evangelism Resources - Click Here

Back to Top of What is Evangelism?